Awards
Awards & Recognition
BC Golf Safaris Recognized Again As North America's Best Golf Tour Operator 2021
We are thrilled and honoured to announce that BC Golf Safaris has been named North America's Best Golf Tour Operator 2022 at the 9th Annual World Golf Awards.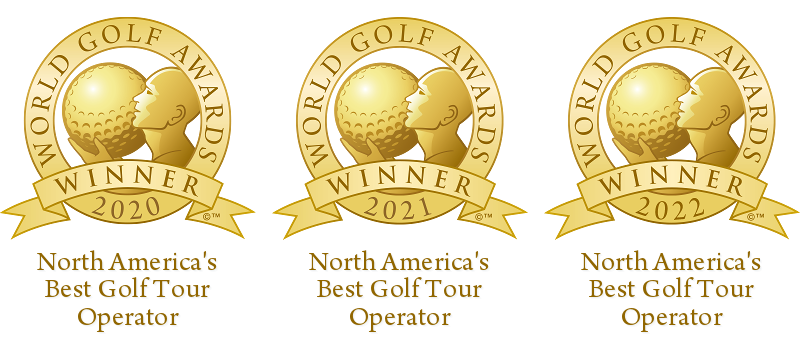 The World Golf Awards celebrates and rewards excellence each year, highlighting golf tourism, world-class courses and golf destinations. This worldwide voting event began with a nomination process followed by voting from professionals working within the golf travel and tourism industry, plus those cast by public golf consumers from February 26, 2022 to October 1, 2022.
BC Golf Safaris President Patrick Meagher acknowledged "I am thrilled that our small and incredibly dedicated team has received this honour for the second year in a row. In over 22 years of offering golf travel services, we have never seen such a busy year for people looking to book golf to British Columbia."
World Golf Awards Managing Director commented in the announcement "With the return of bookings comes a notable consumer trend to seek out the very best golf tourism products across the world, which is why winning a World Golf Award this year has never been more valuable.
This year's winners are more deserving than ever. Your commitment to excellence in the face of adversity is inspirational."
BC Golf Safaris is already seeing significant interest in the 2022 golf travel season and is excited to be able to offer golf travellers excellent golf packages to golf destinations in British Columbia and throughout the world through their sister company Worldwide Golf Safaris.
To learn more about BC Golf Safaris, visit bcgolfsafaris.com.
View the full list of winners at worldgolfawards.com.
Thank You
Thank you, thank you, thank you! Here is to another incredible 22 years of serving you!
Gratefully yours,
Patrick Meagher,
President
---
BC Golf Safaris Presents the Top Ranked Golf Courses In British Columbia
In early 2018, BC Golf Safaris, the #1 golf vacation provider in British Columbia, conducted the BC Golf Dream Contest. This contest was the largest consumer ranking survey of public golf courses in British Columbia, with over 4,000 golfers survey.
Learn More About The 2018 BC Golf Dream – Top Ranked Golf Courses In British Columbia