Awards
Awards & Recognition
We are thrilled and honoured to announce that BC Golf Safaris has been recognized as North America's Best Golf Tour Operator 2020 at the 7th Annual World Golf Awards!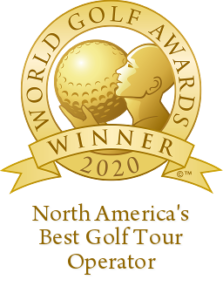 The World Golf Awards celebrates and rewards excellence each year, highlighting golf tourism, world-class courses and golf destinations. This worldwide voting event began with a nomination process followed by voting from professionals working within the golf travel and tourism industry, plus those cast by public golf consumers from February 23, 2020 to September 1, 2020.
The staff at BC Golf Safaris are beyond honoured to receive recognition via the virtual awards ceremony presented by the World Golf Awards Thursday, October 29th, 2020. BC Golf Safaris owner/operator Patrick Meagher accepted the award via video, saying "I am thrilled after 21 years that we've gotten this sort of recognition…thank you to my small but incredibly dedicated team for working so hard…I am humbled, honoured, pleased and looking forward to incredible things in 2021. Thank you."
Thank you to all of our amazing clients and industry partners for voting for us and for all of your incredible support and kind words over the years. We have been arranging custom golf vacations since 1998! Thanks to you and our small (but incredible) golf travel team for making it as much fun to come to work today as it was when we first started!
Thank You
Thank you, thank you, thank you! Here is to another incredible 22 years of serving you!
Gratefully yours,
Patrick Meagher,
President
---
BC Golf Safaris Presents the Top Ranked Golf Courses In British Columbia
In early 2018, BC Golf Safaris, the #1 golf vacation provider in British Coumbia, conducted the BC Golf Dream Contest. This contest was the largest consumer ranking survey of public golf courses in British Columbia, with over 4,000 golfers survey.
Learn More About The 2018 BC Golf Dream – Top Ranked Golf Courses In British Columbia